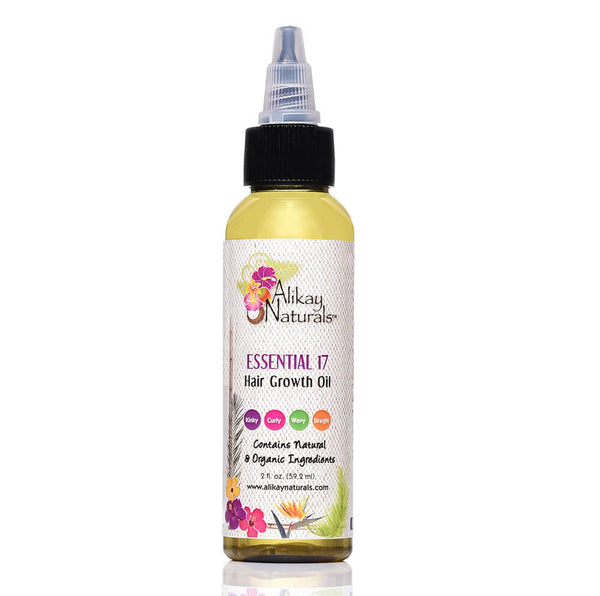 Essential 17 Hair Growth Oil Travel Size
Add to wishlist
Essential 17 Hair Growth Oil is the first product Alikay Naturals introduced back in 2008 which Rochelle Graham (our CEO) created in her dorm room kitchen to address the natural hair concern of minimal growth. Today it is still in our Top 3 best-sellers because it works like nothing else!
This customized and lightweight blend of 17 essential oils and herbs specifically promotes faster hair growth by nourishing the scalp while stimulating and strengthening the hair follicles. One of the first signs to know that Essential 17 is working is a reduction in dandruff and scalp irritation, which typically happens after the first week. It works amazing by itself or can be paired with Lemongrass Leave In Conditioner for the ultimate 1-2 punch!
So, if you can't seem to get your hair past that shoulder-length natural growth hurdle, give Essential 17 a try and document your results to be featured in our next Growth Challenge!
Shake well, then apply oil directly to scalp using the applicator tip. Massage into scalp well. Do not rinse out. Note: The brown speckles in the bottom is Horsetail Powder.
Hair Tip: In general we recommend an every-other-night usage frequency, but encourage you to experiment to find your optimal frequency. It's very important to massage the scalp when applying this product, as this increases scalp blood flow which causes the pores to open and absorb the essential oils. Get our Healthy Hair Treatment at AlikayNaturals.com.
Key Ingredients: Rosmarinus Officinalis (Rosemary) Leaf Extract, Olea Europaea (Olive) Fruit Oil, Simmondsia Chinensis (Jojoba) Seed Oil, Prunus Amygdalus Dulcis (Sweet Almond) Oil, Melaleuca alternifolia (Tea Tree) Oil, Horsetail Powder, Mentha Piperita (Peppermint) Oil, Essential Oil Blend, Botanical Blend
Featured Ingredients:
Tea Tree Oil: Contains antifungal, antibacterial and anti-inflammatory essential oils that breaks down undesirable buildup and residue at the scalp and roots to promote healthy hair.
Horsetail Powder: A plant powder that contains silica which is beneficial to reducing hair loss and dandruff.