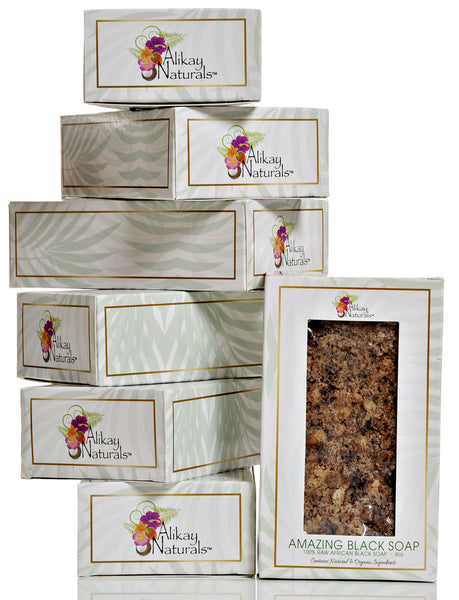 Amazing Black Soap Bar- SET OF 7
Add to wishlist
This set contains 7 of our 6oz Amazing Black Soap Bars. Save money by buying in bulk.
Yes, REAL African Black Soap is not the color black! Made with 100% quality ingredients such as dried plantain skins and cocoa pod powder that cleanses the skin and pores deep down while helping to fade blemishes and acne scars. Does not dry the skin out. Get a Clearer Complexion without the harmful chemicals.  
Use for cleansing face, hands and showering. For best results use daily. Skin may peel for the first few days which is usually caused by dead dry skin being removed by the soap. If peeling continues more than a few days discontinue use.
Tip: Rather than using the full bar at once, cut ¼ at a time and store the rest in a cool dry place. Soap gets softer and darker in color when wet.
Elaeis Guineensis (Palm) Kernel Oil, Theobroma Cacao (Cocoa) Seed Butter, Butyrospermum Parkii (Shea Butter), Potash(Ashes of plantain skins, cocoa pods, shea tree bark)